How a Real Estate Agent Sold Over $50M in New Development Condos in Less Than a Year. – The Pipeline, 02: Adrián Sanchez
The Real Estate Pipeline
/ June 21, 2022 / By: Carlos Concepcion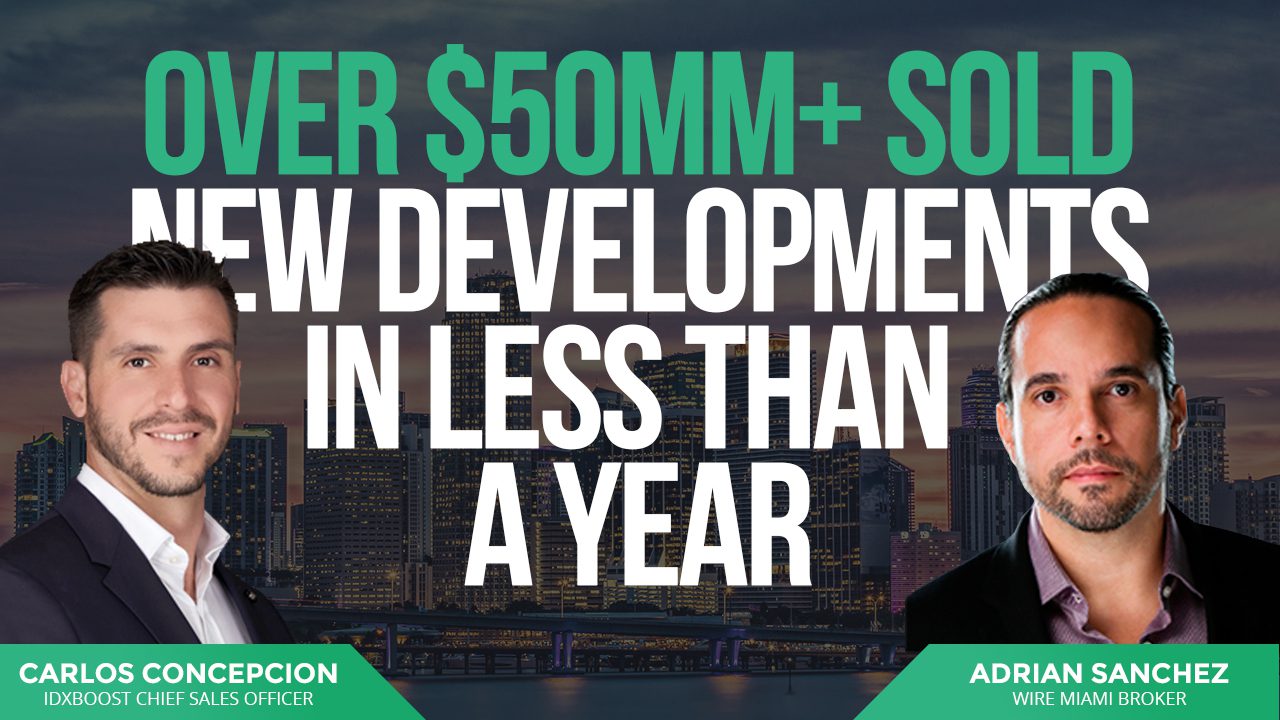 The Pipeline is a conversational podcast hosted by Carlos Concepción, Chief Sales Officer at IDXboost.com, a real estate business accelerator platform that combines the power of innovative technology, proven marketing strategies, and experts working alongside.
IDXBoost has scaled real estate professionals to 9-figures in yearly sales, by helping them boost their brands, dominate their local markets faster and generate higher financial returns year over year.
The Pipeline's goal is to share knowledge and provide awareness of how real estate top producers are leveraging the power on the internet to achieve their business goals nationwid
Episode intro:
In this episode, Carlos talks with Adrián Sanchez, the founder of WIRE (Waterfront Investment Real Estate), who has sold over $150M in both commercial and residential real estate. Adrián is also a member of the Master Broker's Forum, a prestigious group of top producing residential Realtors, and has sold several multi million dollar properties in some of the most prominent and affluent neighborhoods in Miami.
Watch the full video to find out how Adrián did to have over $280M in active listings today and his best tips to give a personalized service to a wide range of elite clientele.
Video structure:
The beginning of Adrián's real estate career.
First sales and the path to pre-construction luxury market.
Keys to being successful in real estate:

Adjust to the market and embrace change.
Spend money on digital marketing tools as IDXBoost to get good quality leads.
Get good advice from industry experts.
Build relationships with your leads.
Put your heart and soul into everything you do. Real estate has to be your job and your hobby.

E11EVEN: Success story. Selling 53 units using IDXBoost.
Future projects.
Full interview:
Carlos: Hi! Welcome to another episode of The Pipeline, where we elevate the real estate businesses and care about how they became top producers and dominated their real estate market. My name is Carlos Concepcion, Chief Sales Officer at IDXBoost, the fairest real estate business accelerator.
I'm very excited to have our next guest with us, he's the owner and managing broker of a top producer agency in Miami. They've sold over $50 million in sales, in new development, and I'm so thrilled to have him being part of the podcast. So first and foremost, for those who are just joining, welcome to the pipeline, the podcast where we like to share and promote top real estate businesses that have accomplished great numbers.
I'm very excited about our next guest, Adrián Sanchez, owner, CEO, and managing broker of WIRE Miami (www.wiremiami.com), a real estate brokerage in Miami that has taken the new development world by storm selling over $50 million in the past year. I'm very thrilled to have you here. So first and foremost, welcome Adrián, thanks for joining!
For those who are watching us, tell us a little bit more about you and what were you going to in real estate?
Adrian: Yeah, absolutely. I started in 2005. First of all, thank you for having me. I started in 2005 and I wasn't sure what I was going to do with my life. You know, I was 29 years old, trying to figure things out. I was a Vicepresident of Sales for a furniture designer. So look how different! And that was based out of Athens in Greece. We were producing from Istanbul and that was kind of like my first foray into a real business. I was doing trade shows in Tokyo, Hong Kong, and Frankfurt.
Then I came back to Miami and my world had kind of opened up, but I said, you know, how can I do something that's going to be exciting for me, and that's going to generate at the end of the day the money that I want to earn? I got my real estate license and I had nothing. I had nobody, I was actually pretty strapped for money at the time. I could barely even make my car payment. It was really tough to start without any mentor, I didn't have anyone that I could rely on. My circle of friends was, you know, not really buying real estate.
My circles of influence themselves were not really that great, but I just started grinding and I started going to the office every day. I started making calls or seeing what other people were doing. Back in 2005, the market was pretty hot in Miami.
I've put myself in a position where I was in the right place at the right time.
Carlos: How did you do that?
Adrián: You know, I still do that. I remember my first sale was a pre-construction, which is again what I'm doing now. And that was at the Ivy. I sold 2 units there and I made a $50,000 commission and I thought it was all the money in the world. I was so excited about it!
It was shortly after that I would sell 13 units at Bentley Beach. So I started off with a bang in real estate. But then, when the markets dropped, I also dropped with it and I had a reality check. You know, I thought I was hot stuff because I made some money at first.
Then I realized that I didn't know what I was doing. So I really had to kind of relearn and adjust to the market. In 2008, when the market took a big crash, I had to figure out what I was going to do. I got into different things. I was buying at the foreclosure auctions with some investors who were doing fixes and flips and things like that.
I ended up doing over 50 of those and then the market kind of adjusted again because there were no margins for it. So I started getting into commercial real estate, and that's when I started really dealing with the big boys, you know, Michael Stearns, PMG, and all that.
That's how I kinda got into the luxury pre-construction market because I had an in with those developers. And so now here we are today and I'm selling St. Regis and the Waldorf and all these big projects and it's because of my relationship with those guys.
Carlos: Definitely. And knowing you, there are 2 things. One, I believe that all our viewers will relay to your story because it's very similar to the beginning when people start in real estate and they don't know what to do. And then, you're putting your time, your effort, you dedicate your time and energy to your craft. But as a business owner, there was a point in your business where maybe you wanted it to go outside of this fear. What are the things out there today for the business that is available to you that may be working better than others? How do you streamline your business to get more and make sure that it grows prosperous of course, in such a competitive market as Miami is?
Adrián: Sure. If you don't adjust to the market, you're just not going to get anywhere. Things change, you gotta change with it. There's a lot of marketing involved now that you really have to do to stay competitive. I like to think that I'm putting myself out there. There are certain platforms that helped me greatly.
We have really taken it to another level with the marketing, with the property websites that we do to make sure that we're getting a good quality leads that we do get. Anybody can do that. All it takes is spending a little bit of money and getting some good advice, from you or from somebody else.
What people don't do is the follow-up and what it really takes to establish relationships with these leads that are coming in. You know, people think that a lead is calling them so that they can go ahead and send a contract. That's not the case.
The way that I operate is by building relationships. You know, I'm not in sales. And I think that I've been able to do that by going outside of my comfort zone, which was really just talking to the relationships that I've built and starting to get all of these platforms that generate leads for me.
Speaking to those guys and creating those new relationships is what's really taking me to another level now because these are relationships that are going to be not only fruitful for whatever it is that we're selling them, but for the future. We're not only developing an incredible pipeline but an incredible future.
Carlos: I guess some of our viewers already know that at IDXBoost we take a lot of pride not only in the technology and the strategy but also in making sure that we help you elevate your brand and your business, to increase sales and make sure that all of that pipeline gets educated about what you do and who you are as the authority in the market.
Now, I know that lot of agents that are watching this today see you already as a very successful agent and as a business owner, and they are trying to figure out within the internet, what can work best for them. Some of them already put the time, some already put the hours, but when it comes to your personal practices and to your preferences, what would you recommend them?
What would you recommend to a starting agent or an agent that is trying to break out of just working with their sphere? What are some of the things that you recommend them to do in order to maybe help them increase their sales and be knowledgeable and profitable in their own markets?
Adrián: Well, it's funny because, before this podcast, I just spent probably two and a half hours talking to my agents. I've actually lost my voice a little bit. Uh, but I'm going to tell you some of the things that I was telling them as well, you know, you need to fully immerse yourself in this business, okay?
And I think in any business, you need to go all out on these things. You can't go halfway. You have to really like take everything and make it a part of life. I have a lot of things going on, I have a family, I have a daughter, I have a house, and I have other businesses too. I have investment properties.
If I get a call from a lead and they want to buy a $2 million condo, a free construction, that's going to make me 6% or $720,000. You better believe it, it doesn't matter what I'm wearing.
Carlos: What are you doing?
Adrián: I'm dropping that. I'm talking to them. You know, people have talked to me and they've heard me having dinner. And they said, "Oh, I hear you're at dinner, you want to talk another time?" No, no, that's fine. And I talk to them. If you think of this as a job that you're going to set aside hours, if you're gonna have that mentality, you're not going to succeed.
You need to understand that real estate has to be your job, but it also has to be your hobby. You have to really enjoy it to the point where you're willing to drop anything for that. And if you're able to attack needs and attack opportunities, with that kind of mentality you're going to be successful no matter what.
Carlos: I do agree with you on, and we do see that nationwide where, you know, there is a lack of embracing the new ways, embracing the technology. A lot of people don't know what to do. I think that your insight is extremely helpful for that.
I do appreciate your time and taking the time to be in this podcast. You're always welcome. Anything else you want to add? Anything you want people to know about? Why Miami, yourself, or any other ideas that you have, or that you want to check?
Adrian: I'm the kind of person that really puts his heart and soul into everything I do. I've put my heart and soul into this, and then I put my heart and soul into projects. So you see I'm wearing this hat, which is the E11EVEN hat, I've sold 53 units in this project using your platform. Of course, not everybody can do that, no matter what platform it is, but this combination has proven to be quite successful.
Now that Tower I is sold out and Tower II is about 95% sold, I'm focusing on other projects that are coming up. So keep an eye out for some really exciting things from the same developers: PMG, and other developers that I work with, like JDS. There are projects that you're going to be hearing about. There's a crypto project coming up in Wynwood. That's super exciting.
Carlos: So Adrián is bringing the news online, so for those agents that aren't in Miami and that are watching, if you know anybody, please contact WIRE Miami, https://wiremiami.com/.
Carlos: So Adrian, thank you again so much for being part of this podcast! I can't wait to have you here again.
Adrian: Thank you so much for having me. I really appreciate your time.