Strengthen Your Real Estate Brand & Business with a Proper Online Presence – Ep 07: Bill Barrett
The Real Estate Pipeline
/ August 8, 2022 / By: Carlos Concepcion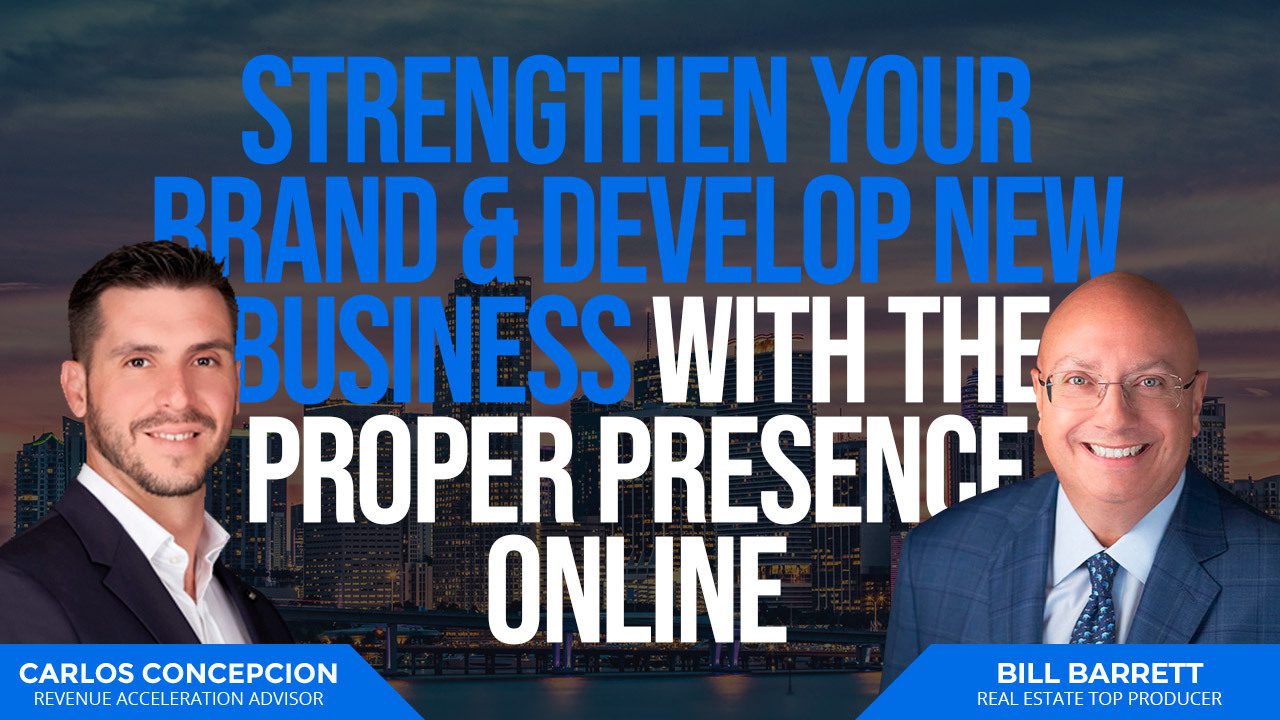 The Pipeline is a conversational podcast hosted by Carlos Concepción, Chief Sales Officer at IDXBoost.com, a real estate lead generation accelerator platform that combines the power of innovative technology, proven marketing strategies, and experts working alongside.
IDXBoost has scaled real estate professionals to 9-figures in yearly sales, by helping them boost their brands, dominate their local markets faster and generate higher financial returns year over year.
The Pipeline's goal is to share knowledge and provide awareness of how real estate top producers are leveraging the power of the internet to achieve their business goals nationwide.
Episode intro:
In this episode, Carlos talks about how to build up your real estate brand & business with Bill Barrett Sr., the principal broker, and owner at Luxury Home Consultants (LHC). He has been an exclusive buyer broker in the South Florida real estate market for over 33 years. During that time, he successfully brokered several thousand real estate purchases working exclusively for property buyers. As one of the very few real estate brokerages that offer single agent, fiduciary level representation for its buyer clients, LHC continues to go against the grain of traditional, Transaction Brokerages that lead the industry in volume.
Video structure:
The beginnings of Bill in the real estate industry
A better way of doing real estate business: representing buyers and buyers' best interests
Best practices

Look at what everyone else is doing and then try to do something a little different
Be committed 100%
Work hard
Love what you do

Trem Group as a technology solution
The impact of technology automations on Luxury Home Consultants
Working on your online presence to strengthen your brand
Insights from the current real estate market
Video full transcription
Carlos: Hi, welcome to another episode of The Pipeline, the podcast where we like to showcase and display what top producers, real estate business brokers, and developers are doing in their market to dominate their area and become top producers and authorities in the real estate market. Today, I'm very excited to have our next guest.
His name is Bill Barrett, owner and top broker of Luxury Home Consultants. He owns a buyer-focused agency dedicated to provide value and information to new buyers in the market, especially in the Florida luxury market. I'm very excited to have him today. Welcome, Bill. Tell us a little bit more about you. What took you into the real estate world?
Bill: Well, thanks Carlos, for having me on The Pipeline. I'll tell you my start in real estate. I was very, very young. I was working for a company as an intern, on the commercial end in Rhode Island, while I was going to college. I was basically a glorified number cruncher and was bored to tears with it. One day, the broker said to me: "You need to go out with our top sales person on the residential side because I think that might be more for you". And we went down and it was a young couple and I was with Martha. Martha was distinct and memorable. No doubt. And we got down to this house. I'll never forget. It was an older home. It was a very expensive, older home on the water, uh, down in Newport, Rhode Island. And this young couple was getting married and they had stars in their eyes. I got to this house and I let them in. And then Martha did her her thing and I'll never forget. The young lady walked to the top of some stairs and she opened up a door and Martha says: "Wait, look. I can see this. You're holding a flute of champagne. Your hair is blowing back". And I thought to myself, "This is residential real estate. I can do this". Actually, that's not what I said at all. I said, "This is crazy, she is pressuring the heck outta these people". And this house is nothing but a bunch of termites holding hands. Somebody has gotta say something or do something. But these kids were frightened to death because Martha was very aggressive. You know, you gotta get back to the office, we gotta sign the contract. And I thought "Gosh, there's gotta be a better way to do this in real estate". And when I graduated and came down here to Florida, I was very young and I figured out quickly in real estate. You know, when you're 21, or 22 years old, nobody wants to give you a listing. You're just too young. So the good news is I didn't have much hair! So I perhaps looked a little older than I did. I decided that I was going to be a business that only represented buyers' best interests. It was something that took off for me 30 years ago and the business has built and, uh, the book of business has been great. My return clients are the heart and soul of my business.
Carlos: That's an amazing story, Bill. Thank you so much for sharing that. And you know, within 30 years of experience, there's so much that I want to ask you, right? The market has seen so many changes. And you lived through it and you succeeded in creating a real estate business through this luxury story market.
Now, some of the agents that are watching today are about to start their careers. I want them to know what were some of the best practices that you apply when starting to get more business, to put yourself out there, and to grow yourselves, you know, as an agent at the beginning.
Bill: Well, a couple of things. One, look at what everyone else is doing and then try to do something a little different. Two, this business is a great business to be in. I love it. It's almost become my hobby. I can't imagine life without doing what I do. Um, but when I hear people say that they can't, uh, they can't make an appointment or they can't get back to somebody, go do something else. This is not the business for you. This business is a commitment. I think a lot of people are lured into the business for two reasons. One, there is a tremendous financial upside, and two, there are not a lot of barriers to entry with regard to education. So it's great for someone with an entrepreneurial spirit, but if you don't like to work, this business isn't for you.
There's no such thing as returning the phone call two days later. There's no such thing as, "I'll do it tomorrow". People need, want, and deserve your best attention and your best work at all times. So that would be the advice that I would give. If you can't give a hundred, and you don't love it, there are other things to do.
Carlos: That's awesome advice, Bill. On our end, we are huge believers in technology and, you know, being today using this platform, which is YouTube and social media to put this content out there… I wanted to ask you, as a business owner, when was that moment when you decided to try to display your brand in the digital ecosystem? How did that work out for Luxury Home Consultants?
Bill: Well, I'll tell you what. I think it was about 1994. Some guy came into my office and said "I have to tell you about this awesome thing. It's called the Worldwide Web and you're not gonna do any more print advertising. In fact, 10 years from now, you won't do any". And he left and we made all sorts of web jokes. Spider-Man, whatnot. And, uh, if he's watching right now, you were right. So the internet has changed everything. And the way my business evolved was with this core group of clients, they kept referring business and referring business, and then they would be return clients. But it got to the point where I had to do more to grow the company and, you know, keep production at a level that was something that kept my interest in the business.
That's when I contacted Trem Group. I really was looking for somebody that was gonna be able to work with me on more of a personal level, because I had talked to other companies and worked with other companies and, you know, I would have a problem with the website and they would say "Oh great, we're gonna give you a ticket". What am I gonna do with a ticket? The thing that I love about Trem Group is that when I have a problem I can text, I can pick up the phone, I get my people, and the problem gets solved. No excuses, no garbage. And that's what my clients want from me. They don't want, they don't wanna hear my problems. They wanna hear what the solution is.
Carlos: As a technology company, what we usually also go about is creating the infrastructure for your business to display itself on the internet, right? It's an extension of your day-to-day business, and you have a lot of experience creating different websites through many different providers. You just mentioned about how important is the service side of it, but when it comes to the technology, how good has it been for Luxury Home Consultants to apply some of these technology automations to help with the communication of your clients? Has that impacted at all your day-to-day?
Bill: Yes. In fact, if we're talking about, uh, like IDX boost, it's just amazing. The control, the insight it gives you. It's just something that almost gives you an unfair advantage. It's something that's worked great for me. And as I continue with the products, it's doing nothing, but, uh, you know, creating more and more viable clients for me, it's helping me, as I learn to weed through the leads that aren't so strong and get to the ones that need the immediate detention.
Carlos: Using technology in the real estate business is something extremely important for us today. But now that I have you on the show, now that I have you on The Pipeline, let me ask you something. For those agents that are joining real estate today, right. We talked about best practices and dedicating ourselves to the business. But if you were a real estate agent that is joining the South Florida market today in 2022, what would be your first recommendation for them? What would you tell them to go do today that you wouldn't have maybe told them a few years ago? How do you see the market for a new agent from your perspective?
Bill: The answer to that is I see what they need to do is the thing as a guy like myself, that's a little bit older, has a little bit more difficulty and that is to get the proper presence online and do it from the start. It will strengthen your brand. It will help you develop your business. That's all there is for you starting out. And of course, you know, there's gonna be good training. I think that there are a lot of companies out there where you can get that, but as far as moving yourself forward, once you know what you're doing, the big challenge is going to be clients. And I think in the cycle of real estate that we're in right now, that's gonna be the most important.
Carlos: Well, now that we talked about the agents and best practices, I know that you're a big data and you do a lot of business on the waterfront luxury market in South Florida. And now that we're talking about real estate, how do you see the market performing in your area? How do you see the transactions going? What insight can you give us on your current real estate?
Bill: I think right now we're in a transitional time, we've gone from a time that I never thought I would see, which is actually what I think I said in 2008, 2009, uh, to, in extreme, on the other end. I mean the last 12 months I've seen properties that are multimillion-dollar properties, with multiple cash offers over asking, and never in a million years, I think I would see that.
You know, the pendulum always swings both ways. And right now it's starting to swing. Now, the thing that always underpins, the success of our market here, or the demand in our market, I should say, is population growth. And that's what we have right now. We have positive population growth. Everyone wants to come here. It's beautiful. It's sunny. We've got low taxes. It's built with culture. It's a wonderful place to live. It's a wonderful place to get outside and enjoy everything that South Florida's got to offer. I think that will definitely be slower, that what I see for the future is a little bit more inventory. I see a lot of buyers being taken out of the market by higher interest rates. And a lot more cash transactions. That seems to be the theme for 2021 and going into 2022.
Carlos: Thank you so much for that, Bill. I wanna thank you so much for being here, but before we end today's podcast, I wanted to ask you, for those who are just getting to know you, how can they find you? How can they reach out if there is anybody that needs assistance or consultants on your market, what are the best ways to reach out to your team without a question?
Bill: Feel free to pick up a phone, the old-fashioned way, call me directly, or through the website, www.luxuryhomeconsultants.com.
Carlos: That's great. We'll include that in the description, just for anybody that may wanna reach out and connect with you on a personal level, they will do so on our side. Bill, thank you so much for taking the time today and meeting with me and sharing all of this knowledge with our viewers because after all, we want them to know how top producers in very competitive markets are doing to succeed and what your experience has been. So again, Bill, thank you so much for joining. Hopefully, we can do this again soon.
Bill: All right. Thanks a lot, Carlos. I really appreciate it. My best to the team, take care